INFO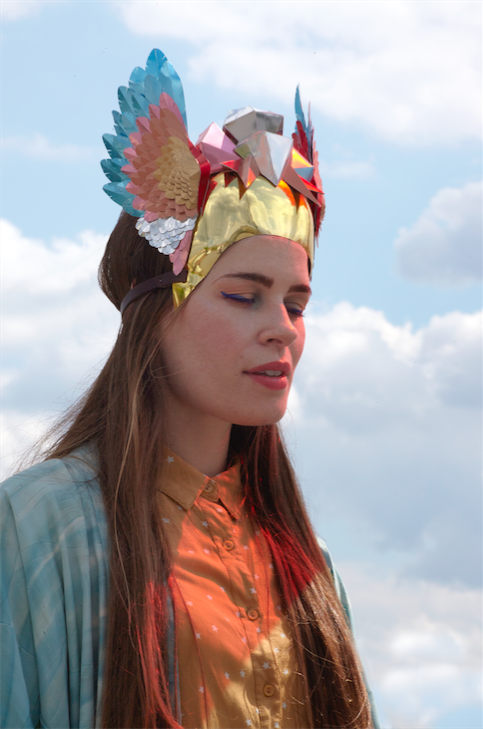 Hi, my name is Lacy Barry and I'm a multi-faceted artist & designer.
Growing up in the Canadian wilderness I am inspired heavily by the natural and cultural wonders from my childhood; from brightly hued Northern Lights to the colourful ceremony dress of the local First Nations Tribe, these memories have always made their way into my artwork. Saturated in colour and rich in form, I create pillars sculptures embellished with Flora & Fauna that are exhibited neatly on their own or against a graphic mural background, resembling that of a light rays growths & explosions.
Paper & cardboard being my main choice of mediums, I utilize various folding and airbrush techniques to breathe life into the flat material. On occasion adding glitter, foil, miniatures, graphics and props to enhance the narratives in my work.
Born in the Rocky Mountains of Alberta, Canada, and hailing from an art &
film
background, I am mainly self-taught. Exhibiting with Bottle Neck Gallery in New York in 2013, Joseph Gross Gallery, New York 2014, ArtLeadHer in Los Angeles in 2015, Art on Paper, NY in 2016, the WoMA in Berlin 2018 and Venice Design, in Venice, Italy in 2019. Living and working internationally, I reside in Berlin, Germany.
Say hello
info@lacybarry.com
Follow

Instagram
Select Press
ArtClip
AA Collected Blog
CBC Arts
Klimt02
Beautiful Bizarre
Ballpit Magazine
Bored Panda
IDEAT Magazine Germany Pg. 36-37
Fab News
Strictly Paper
Bravery Training
The Forumist
SpokeHub
Houzz
Zeit Magazin for FvF
Freunde von Freunden
Art Nerd New York
Parka Blogs
Cluster Wall
Inhabitat with Lori Zimmer
Dezeen for No Sir
Thrillist for The Bonnie Bar
It's Rude To Stare
FrejaDaily
ilovecreatives.com
Art Nerd New York
Art Nerd New York for the Bonnie Bar

PLAIN
COLISSION.COM
Art Nerd New York
DESIGN MAGAZINE CZ
Mercedes Benz Magazine: Pg. 16
Art Nerd New York
Street Art News
Art Nerd New York
Art Parasites Berlin
Cult Montreal
Branch Magazine
Amelia's Magazine
Strictly Paper
Talks & Workshops

April 2019 - Forward Session Berlin
For event coverage go
here
October 2017 - Adidas Makerlab HQ
Publications
Living Paper
2020 by SendPoints
Paper Art 2
2016 by Art Power
Contemporary Installation Art
2016 by Art Power
The Art of Cardboard: Big Ideas for Creativity, Collaboration, Storytelling, and Reuse
2015 by Lori Zimmer
Clients
Aïshti
Aldo Shoes
Arche Shoes
Artibus Records
Adobe
BSR
Beats by Dr. Dre
Bombay Sapphire
Condenast
Clarins
Coca-Cola
Equinox
Everyday With Racheal Ray Magazine
FORM
Fuji
Gucci
Loqi
La Canadienne
MAC Cosmetics
McDonalds
Montreal Festival Mode & Design
Mac Demarco
Nuvo Magazine
Nightlife Magazine
N26
Ovopur
Plug Research Records
QVS
Sagmeister & Walsh
Refinery 29 Magazine
Robert Charlebois
Report On Business Magazine
S
üper Store
The Goods Shed
Tiffany's & Co.
Uniqlo
United Airlines Magazine
Verizon
Wayfair
Women's Health Magazine
WeTransfer
Zeit Magazine
Awards & Grants
Applied Arts Awards Winners: Photography Unpublished 2012
Applied Arts Award Winners: Broadcast Graphics - Single 2012
Applied Arts Award Winners: Motion/Animation - Single 2012
MAP Montreal Outdoor Photo showcase with Pierre Manning 2011
LUX by Infopresse Awards with Pierre Manning 2011
YES Montreal, Business Grant for Creative Souls 2010
Recognitions
BSR Annually Report 2016
:- Econ Award 2017 - Shortlist/Nomination