ABOUT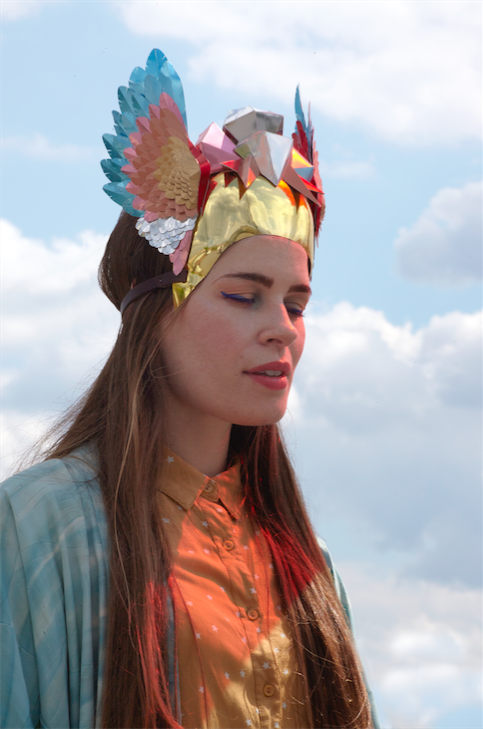 My name is Lacy Barry and I'm a multi-faceted artist & designer. I do and have done very many things; from public art installations, interiors, desiginging my own wallpaper to podcasting, illustrations, music videos, editorials, curating group shows and even a
tablet game
. I am obsessed with beauty, and create vibrant sculptures reminiscent of the fluid and geometric forms and saturated colors found in natural & architectural worlds.
Born in the Rocky Mountains of Alberta in the Canadian wilderness, I have always been inspired by the natural and cultural wonders of my childhood home and the fantastical places experienced on my travels later on in adulthood. Approaching these aspects with preternatural cognition, these memories have always made their way into my artwork.
I don't remember a time when I wasn't curious and enthralled by channeling my imaginative inner world into my art. I began my art practice at the youngest of ages, before becoming a contemporary dancer at the age of seven, performing professionally across North America. As a young adult, I apprenticed to my
sign-painter father
on western film sets. Continuing my childhood love of drawing and painting. I later moved into
costume design
, fashion, set building and prop styling.
... now installations, illustrations and interiors.
I used my background in the arts to 'literally' craft my own, unique, visual language. I work mainly, but not exclusively, with paper, discarded materials and recycled cardboard. I utilize various folding, constructive and coloring techniques to breathe life into materials, often incorporating
Solarpunk
&
Lunarpunk
themes with much play, fun and care.
Living and working internationally, I reside in Berlin, Germany.
I have exhibited internationally. My shows include:
Bottle Neck Gallery, New York, USA 2013
Joseph Gross Gallery, New York, USA 2014
ArtLeadHer, Los Angeles, USA 2015
Art on Paper, New York, USA 2016
Beirut Design Week, Beirut, Lebanon 2017
Kolor Studio, Berlin, Germany 2017
the WoMA, Berlin, Germany 2018
FORM, Perth, Australia 2018
Venice Design, Venice, Italy, 2019
This Is An Intervention Festival, Berlin, Germany 2020
Scotty Gallery, Berlin, Germany 2021
Ed Varie Gallery, New York, USA 2021
HomoFaber, Venice, Italy, 2022
Handwerk Museum, Munich, Germany 2023
Britzenale, Berlin, Germany 2023
commision artwork,
book an interior consultation
or just say hey:
info@lacybarry.com
More about my Workshops

Select Press:
Tagesspiegel
Shoutout Miami
7Roomz
T with Milly J
Vanmoof : Rider Stories
Patricia Schichl porträtiert Berliner Künstlerinnen
Homo Faber Guide
ArtClip
AA Collected Blog
CBC Arts
Klimt02
Living4Media: Lacy's Cocoon
Beautiful Bizarre
Ballpit Magazine
Bored Panda
IDEAT Magazine Germany Pg. 36-37
Strictly Paper
Bravery Training
The Forumist
SpokeHub
Houzz
Zeit Magazin for FvF
Freunde von Freunden
Art Nerd New York
Parka Blogs
Cluster Wall
Inhabitat with Lori Zimmer
Dezeen for No Sir
Thrillist for The Bonnie Bar
It's Rude To Stare
FrejaDaily
ilovecreatives.com
Art Nerd New York
Art Nerd New York for the Bonnie Bar

PLAIN
COLISSION.COM
Art Nerd New York
DESIGN MAGAZINE CZ
Mercedes Benz Magazine: Pg. 16
Art Nerd New York
Street Art News
Art Nerd New York
Art Parasites Berlin
Cult Montreal
Branch Magazine
Amelia's Magazine
Strictly Paper
Talks & Workshops:

April 2019 - Forward Session Berlin
October 2017 - Adidas Makerlab HQ
Publications:
Living Paper
2020 by SendPoints
Paper Art 2
2016 by Art Power
Contemporary Installation Art
2016 by Art Power
The Art of Cardboard: Big Ideas for Creativity, Collaboration, Storytelling, and Reuse
2015 by Lori Zimmer
Clients:
Aïshti
Aldo Shoes
Arche Shoes
Artibus Records
Adobe
BSR
Beats by Dr. Dre
Bombay Sapphire
Condenast
Clarins
Equinox
FORM
Fuji Film
FFWD Festival
Gucci
MAC Cosmetics
Montreal Festival Mode & Design
Mac Demarco
Nuvo Magazine
Nightlife Magazine
Ovopur
Plug Research Records
Prada
Sagmeister & Walsh
Refinery 29 Magazine
Robert Charlebois
Report On Business Magazine
S
üper Store
The Goods Shed
Tiffany's & Co.
United Airlines Magazine
Vanmoof
Wayfair
Women's Health Magazine
WeTransfer
Zeit Magazine
...& more
Awards & Grants:
Applied Arts Awards Winners: Photography Unpublished 2012
Applied Arts Award Winners: Broadcast Graphics - Single 2012
Applied Arts Award Winners: Motion/Animation - Single 2012
MAP Montreal Outdoor Photo showcase with Pierre Manning 2011
LUX by Infopresse Awards with Pierre Manning 2011
YES Montreal, Business Grant for Creative Souls 2010
Recognitions:
BSR Annually Report 2016
:- Econ Award 2017 - Shortlist/Nomination
Memberships:
Homofaber
BBK Kulturwerk